WAU501-SV300B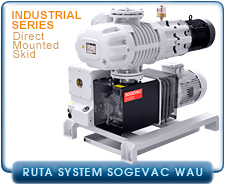 产品详情
Oerlikon Leybold RUTA Vacuum Pump System Rotary Vane SV300B W/ Direct Mounted Blower WAU-501.
Standard Industrial Duty, Vacuum Pump Package.
These Oerlikon Leybold RUTA vacuum pump systems include a direct mounted WAU-501 Root's blower with SOGEVAC SV300B single stage rotary vane backing pump, have a large 380 cfm pumping speed with an excellent ultimate pressure of 6x10-3 Torr. These are standard industrial Root's blower packages prepared for hydrocarbon vacuum pump oil and driven by an air cooled motor. The WAU pumps are easy to operate, include a pressure differential valve that allows them to be started at the same time as the roughing pump. These Oerlikon Leybold RUTA vacuum pump packages have ISO-100 inlet flange, 2" NPT exhaust flange, requires 9.5 liters of vacuum pump oil, weigh approximately 833 lbs, and operates on 3-Phase 200-230, 440-480 VAC input power.